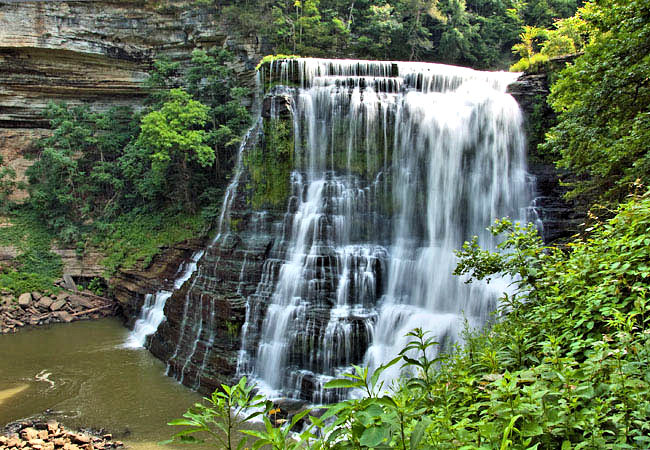 Burgess Falls
Located on the Falling Water River, this day-use park is noted for its natural beauty and four waterfalls that cascade down from over 250 feet in elevation. The last of these falls is the most spectacular, plunging more than 130 feet into the gorge.
The area was originally populated by Native Americans of the Cherokee, Creek and Chickasaw tribes. These tribes used the land as a hunting ground until the late 19th century when a gristmill and sawmill began operating on the river.
The Falling Water River was used to generate hydroelectric power for the city of Cookeville from 1928-1944. In 1973, the territory became a designated Tennessee State Natural Area, protecting the diverse forest and aquatic habitats.
🛶 Kayak & Hiking (Cumberland Kayak)
🚶‍♂️ 2.7-mile hike
🚤 Flows into Center Hill Lake
⏱ 1hr. 18min. East from Downtown
⭐️ Highlights: Kayaking, Waterfall Swim, Climbing
Excerpts from tnstateparks.com
Fall Hollow Falls
Fall Hollow is one of two waterfalls along the Natchez Trace Parkway. Almost immediately after leaving your vehicle you can hear the water descending over the twenty foot drop making Fall Hollow waterfall. If you continue down this short trail you will come to a viewing platform that views the 20-foot tall waterfall. The trail and platforms get slippery due to the water and moisture in the area. Please watch your step and do not climb on the rocks around the waterfall.
Fall Hollow Falls Trail is a 0.3 mile moderately trafficked out and back trail located near Hohenwald, Tennessee that features a waterfall and is good for all skill levels. The trail is primarily used for hiking, walking, nature trips, and bird watching and is accessible year-round. Dogs are also able to use this trail but must be kept on leash.
🚗 1 hour 17minutes South West from Downtown Nashville
🚶‍♂️ Short hike to a multi-level waterfall
🍷 Don't miss the wineries in the area as you leave!
Excerpts from AllTrails.com
Machine Falls
Machine falls is the tallest of the three on the 2.4 trail loop. 60ft. opposed to Busby and Adam falls. There is cold water year-round with a lot of fun exploring to do.
The Machine Falls loop at Short Springs Natural Area is a 1.6 mile round trip hike easily followed by white blazes. It is rated moderate difficulty due to the short, steep descent into a gorge where the falls is located. The trail is sparsely trafficked; there are usually quite a few people hanging out at the falls on the weekend.
There is also an alternate route to Bugsby Falls following Bobo Creek Trail, which is another loop trail that leads you down to Bobo Creek, where you can chose to do the 1.2 mile Laurel Bluff trail. This loops back to the Bobo Creek Trail. I highly recommend doing these trails as well if you have enough time. They aren't as heavily trafficked and are very pretty hikes.
🧒 Fun one for children
⏱ 1hour 18minutes (73miles) South East of Downtown Nashville
Excerpt from TheOutbound
Busby Falls
These falls are located near the Machine Falls trail and are less popular than Machine Falls, which will provide you with more solitude to enjoy them to yourself.
Short Springs Natural Area is where these falls are located. There is a decent amount of hiking trails that are a nice getaway for a day to hang out at for waterfalls.
There is a Busby Falls Loop trail, but it only takes you to the overlook, which can be of a disappointment during the spring and summer, when the trees are full of leaves and block your view. The directions below take you to the Busby Falls base.
Adam Falls and Machine Falls is also included in the loop. This waterfall is split up into two falls Little Busby and the Big Busby with a beautiful ecosystem and a lot of varieties of mushrooms.
Put into your gps "machine falls parking." The gps will take you to the exact parking area. The directions go as follows from Nashville: From I-24 east near Manchester, TN, take exit 111, Hwy 55. Go west toward Manchester. Continue straight through Manchester toward Tullahoma – then, turn right onto Belmont Road after 4.7 miles. Cross the train tracks and the Old Highway and continue on Belmont for 1.3 miles – turn left on Rutledge Falls Dr. After 1.5 miles turn right on Rutledge Falls Rd. On Rutledge Falls Rd go 1.9 miles and turn left on Short Springs Rd. Short Springs Natural Area Trailhead is at the junction of Short Springs Rd and Powell Rd in .9 miles. A huge water tank/tower sits adjacent to the parking area. You will then walk directly across the Short Springs Rd in front of you, where you will see a marker that signifies the start of the trail.
Excerpt from theoutbound.com