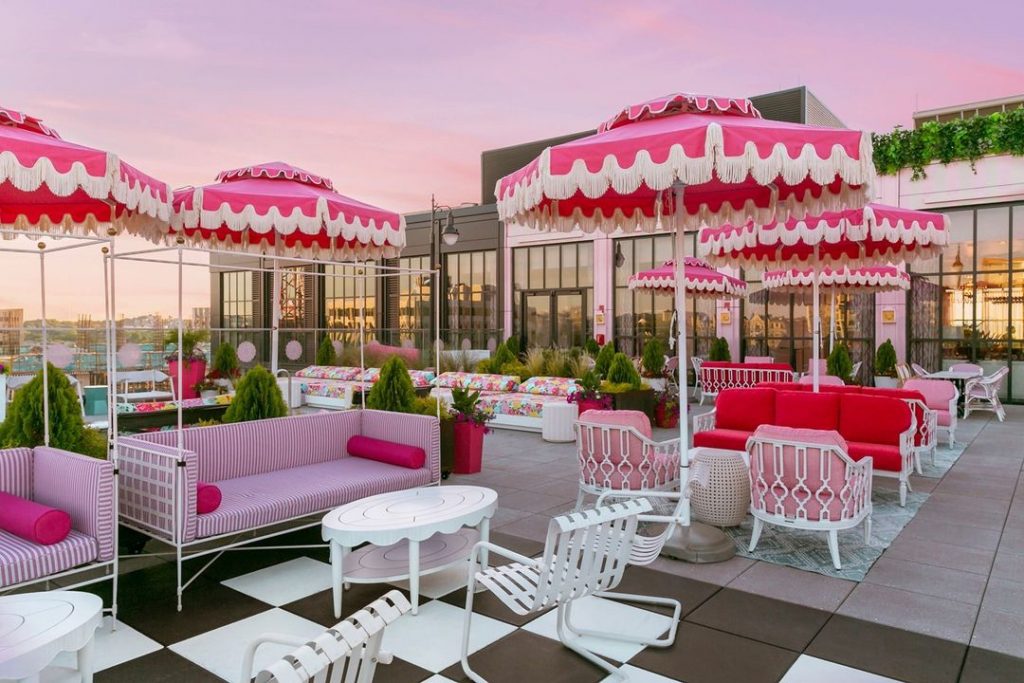 When it comes to knowing the best spots in the city to grab food, brunch is key. Whether you're a local or visiting, brunch is where you cure that hangover, kickoff your day drinking, and get some great photos for you trip.
This roundup of brunch spots not only includes aesthetic atmospheres, but also darn good brunch food. Here are places to grab brunch in Nashville this weekend.
White Limozeen
Situated atop The Graduate hotel off of West End Avenue, White Limozeen is named after the 1989 Dolly Parton album and song. This new hotel and rooftop restaurant is a stylish, all-pink lounge with a pool and cocktail bar.
While the avant garde decor and larger-than-life atmosphere is worth a visit on its own, the brunch menu will have you snapping photos of your plate too. Traditional French food graces the menu, along with poolside-friendly bites and beverages. Try the Biscuits and Caviar, Breakfast Charcuterie, French Onion Quiche, or the Red Eye Croque Madame.
RH Cafe at Restoration Hardware
While the mall at Green Hills may not seem like the hippest place to grab brunch in the city, the RH Cafe at Restoration Hardware is easily one of the most beautiful restaurants in town. Surrounded by the dreamiest lounge furniture, RH Cafe is in a beautiful courtyard with a fountain and romantic trees. When it comes to brunch, RH Cafe will take you someplace else.
Brunch features classic favorites like farm eggs with crème fraîche and avocado toast with aged balsamic on charred sourdough, along with finer—and photo-worthy—plates like artisanal prosciutto, crispy artichokes, and broiled salmon.
Lou
This French gem is tucked away in East Nashville, and is actually an all day brunch cafe and wine bar. Lou is the perfect mix of old world European style and contemporary California fare. For minimalists and anyone who loves a good Instagram aesthetic, look no further than Lou.
When it comes to food, the all day brunch features Roasted Banana Buckwheat Pancakes, Burnt Honey Cast Iron Toast, and savory bites like the Baked Eggs With Mole Cream & Greens or the Chorizo, Potato & Egg Sandwich.
The Mockingbird
Located on 12th Avenue North, The Mockingbird is Nashville's modern diner with fun global fare. With a playful atmosphere and comfort food, Mockingbird is the kind of place you'll want to spend all morning at. The restaurant has bold pops of color, while each dish is a true work of art.
The brunch menu will make you smile with its fun names like Flock Yes, chicken fried chicken thigh with chorizo gravy and salsa verde, or the Oui Loaf You, a citrus brandy and vanilla brioche French toast. The brunch menu has a very special booze list too, which includes specialty cocktails and classics like Woohoo-Tang!, sparkling wine and tang, or Bubbles In A Bag, the punch of the day spiked with Champagne.
Makeready
Makeready Libations & Liberation serves up American tavern food in downtown Nashville. The modern and masculine decor is the perfect place for that city brunch pic to keep your feed clean and artistic—a breath of fresh air from the more popular dramatic decor at many Nashville bars and restaurants.
If the hair of the dog is needed, Makeready serves up your classic Bloody Mary, Mimosa, Aperol Spritz, or Bellini. Heal your hangover with a Sourdough Vanilla Waffle or Hot Chicken Sandwich or Waffle. For those who prefer their breakfasts just the way they like it, opt for a traditional build-your-own breakfast sandwich.
Stateside Kitchen
Located in the Dream Hotel in Downtown Nashville, Stateside Kitchen is the perfect brunch hideaway. This beautiful brunch spot is regal, sophisticated, and worth dressing up for. A chic eatery with craft cocktails, Stateside Kitchen will have you feeling like truly Parisian in this brasserie-style restaurant.
In addition to brunch libations, the menu features the Hangover Burrito, Nash's Smashed Avocado Toast, and the Utopia Omelette. The menu is creative and diverse, meaning you may want to order several plates and share them among the table!
The Pool Club
We'll round out our list with another imaginative rooftop bar and restaurant. Virgin Hotels' Pool Club located off Music Row is a new rooftop pool and bar serving up a spectacular brunch. This rooftop oasis is trendy, hip, and definitely one of those places you want to be seen at. Snap your Insta pic and then drool over their brunch menu.
From Chilaquiles and Nashville Hot Chicken + Waffles to Fruity Pebbles French Toast Sticks and the Brunch Burger, The Pool Club hits all the comfort foods and keeps things fun with their own unique twist.
Where are you headed to brunch? You can't go wrong with any of these spots when it comes to food or atmosphere—because we know both are important.